LET'S TALK HURACAN SUPER TROFEO EVO – LAMBORGHINI BEVERLY HILLS
By daniellepenberthy | Posted in Featured Cars on Thursday, February 15th, 2018 at 5:21 pm
One thing that Lamborghini has always held true to in development of their product is that it is "Uniquely Lamborghini."  So let's talk about the latest race weapon, because here at Lamborghini Beverly Hills we had our first delivery of the Huracan Super Trofeo Evo! One lucky race car driver, had the machine of his dreams handed over to him.  This past weekend in collaboration with the family, we orchestrated a surprise delivery!  Steven Aghakhani's is only 14 years old and the first American to take delivery of his Huracan Super Trofeo Evo.  He and his team will be hitting the track this spring, and we can't wait to see the results!
To dig in a bit more on the car itself, the Super Trofeo Evo was built in collaboration with Dallara Engineering.  They assisted in the development of the new exterior to achieve three very specific goals.  Enhanced safety, improved performance, and new aerodynamics were the focus, all while keeping the successful downforce created in the model previous.  These improvements by Lamborghini Squadra Corse, Centro Stile Lamborghini and Dallara Automobili are again guilty of having created the forbidden dream of all race-car enthusiasths after the global success of the Huracán Super Trofeo.  This 620hp bull is powered by a V10 5.2cc engine with an XTrac sequential gearbox with an electric actuator designed by the Magneti Marelli Motorsport division.  To see the surprise delivery video CLICK HERE!
Below are the Technical Specifications of the Huracan Super Trofeo Evo followed by a gallery of the surprise delivery.
POWERTRAIN
ENGINE

Longitudinal – V10 IDS (NO MPI) Air Intake by BMC
ABS

Racing ABS (12 positions)
TRASMISSION

2WD Six gear sequential gearbox by X-Trac
CLUTCH

3 discs racing clutch Light weight flywheel
SUSPENSION
SUSPENSION

Double wishbones with rigid bushing
ANTI ROLL BAR

Front: 6 positions; Rear: 2 positons
DAMPERS

Ohlins TTX 36 2 ways; Front: in-line; Rear: piggy back type
ELECTRICS / ELECTRONICS
STEERING WHEEL

Racing and multifunctional steering wheel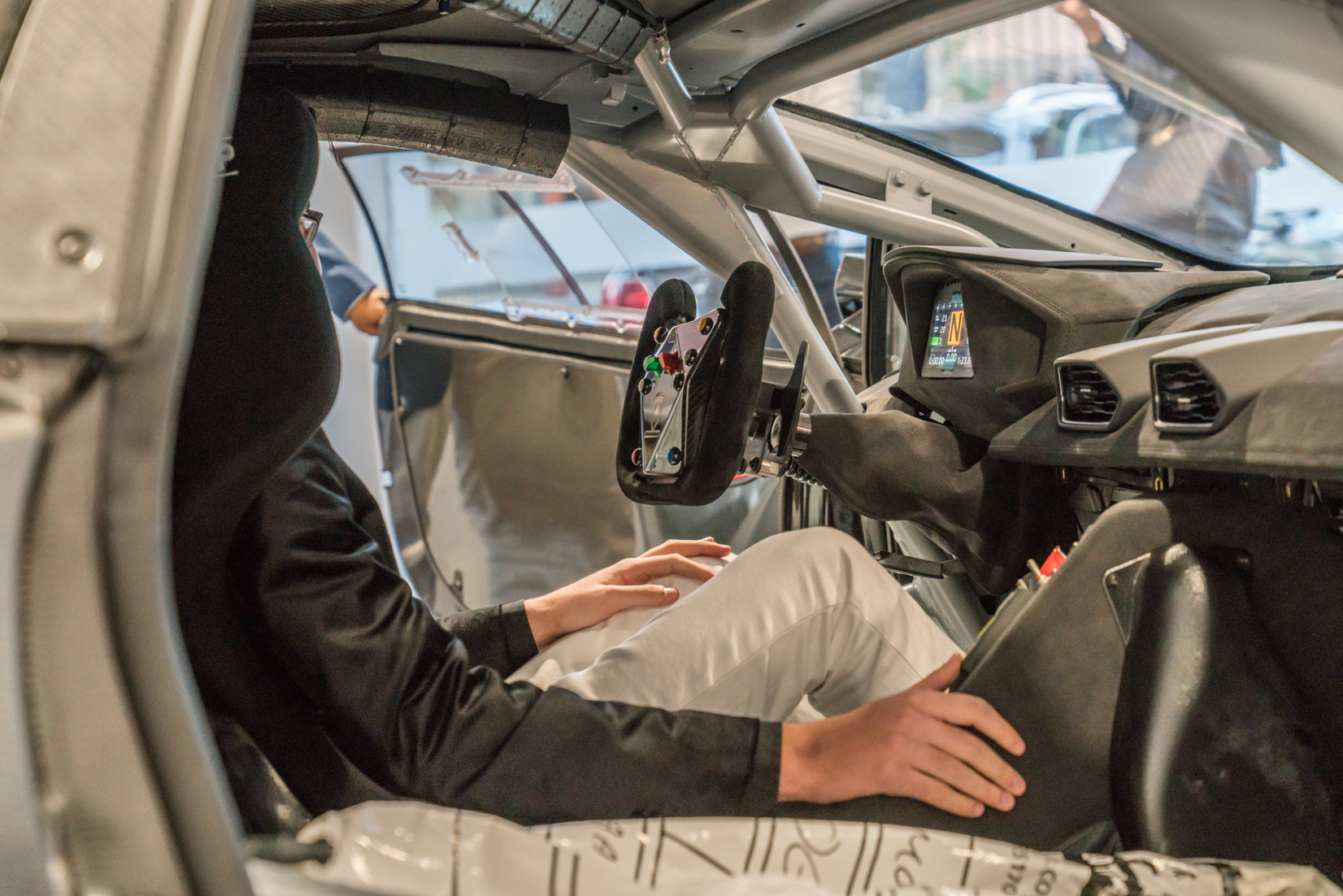 Tags: Beverly Hills, huracan, Huracan Super Trofeo Evo, lamborghini, Los Angeles, luxury, OGara Coach, race, race car, Track, Unvieling
Leave a Reply
You must be logged in to post a comment.