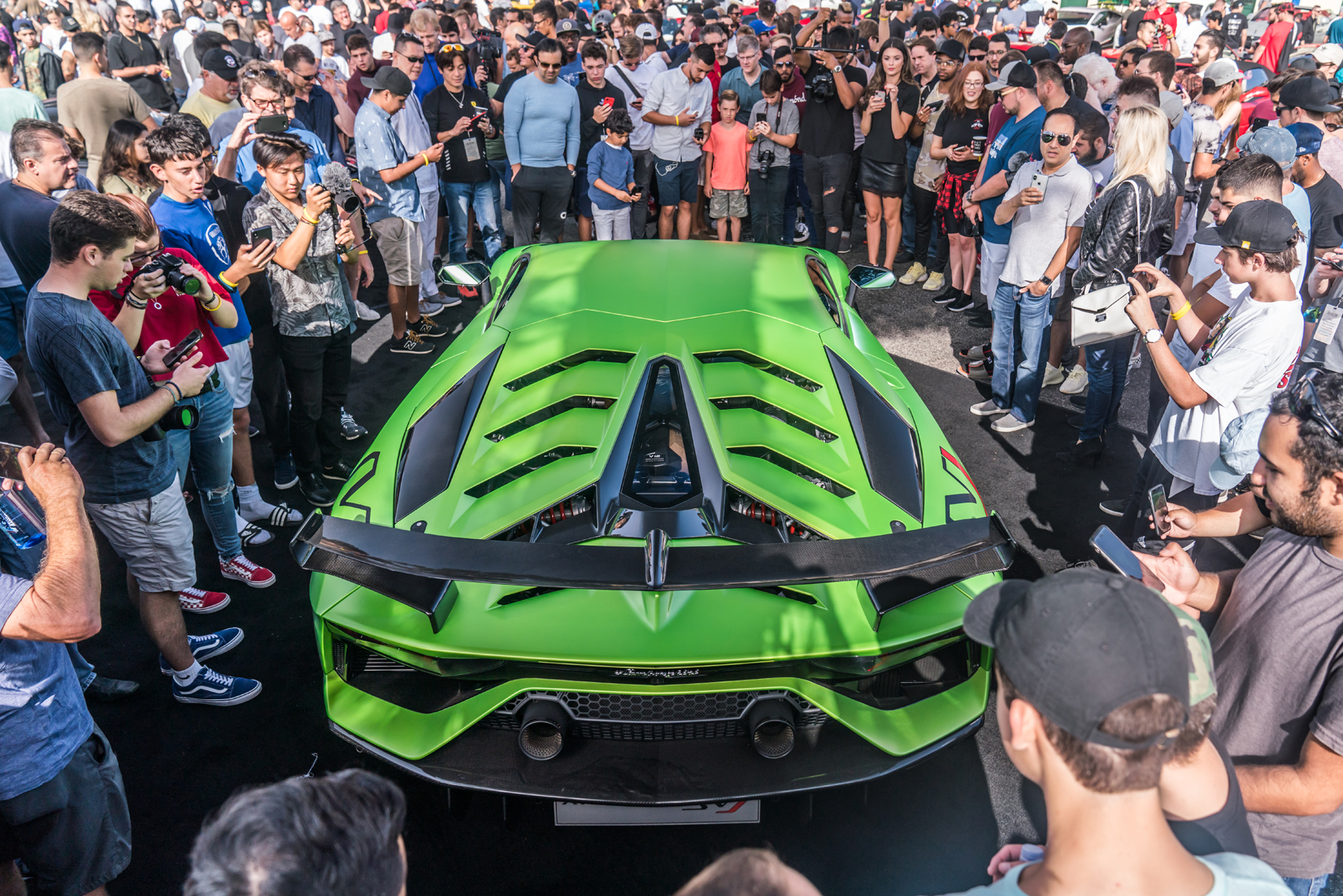 Sunset GT, Southern California's most anticipated cars and coffee event, is back from summer break.
On Sunday, September 9th, O'Gara Coach Beverly Hills brought the car community together for a September edition of Sunset GT with special displays of the Lamborghini Aventador SVJ and McLaren 600LT. 
An early morning fog covered Sunset Plaza, blanketing Hollywood Hills above and the Los Angeles cityscape below. The Lamborghini SVJ and McLaren 600LT were also sheathed beneath black slips, awaiting their Sunset GT debut.
September's edition of Sunset GT gave attendees an intimate look at the power and design behind Lamborghini's fastest supercar. The SVJ's record-breaking speed is owed to a number of performance and aerodynamic enhancements, including a fully redesigned front, large side skirts, an omega-shaped rear wing and lighter, higher exhaust outlets implanted in a carbon fiber chassis. The SVJ was first unveiled last month at Monterey Car Week, but not before setting the new supercar Nürburgring Nordschleife record of 6:44.97 in July, beating the Porsche 911 GT2 RS' time of 6:47.3 and the Nio EP9's run in 6:45.9.
Sunset GT also featured the limited-edition McLaren 600LT. Known as the Longtail, or LT for short, the McLaren supercar traces its roots back to the F1 GTR race cars of the 1990s. The 600LT was unveiled on Sunset Boulevard and driven into Sunset Plaza, where it parked beside the SVJ for hundreds of spectators to admire.
By the time the fog cleared to reveal sunny Los Angeles skies, Sunset Plaza was filled with over 72 cars, including a Bugatti Veyron, two La Ferraris, a Pagani Spider and a Lamborghini Diablo. Sunset GT also welcomed over 300 spectators and a special appearance from YouTuber Parker Nirenstein of Vehicle Virgins, who brought his Ferrari 458 Speciale Aperta.
Below are some highlights from the September edition of Sunset GT. Special thanks to Obica, Sunset Plaza and AQUAhydrate for their continued support of Sunset GT.
To stay updated on the action, be sure to follow @SunsetGranTurismo on Instagram.
The next Sunset GT will take place on Sunday, October 14th from 9 a.m. – 11 a.m.
REGISTER HERE to attend!
Tags: aston martin, aventador svj, bentley, Beverly Hills, Beverly Hills Luxury Vehicle dealership, bugatti, Cars and Coffee, Exotic luxury vehicle, hypercar, Hypercar dealership, Hypercar sales, hypercars, koenigsegg, lamborghini, Luxury auto, Luxury Auto Dealer, Luxury Auto dealership, luxury auto leasing, luxury automotive, Luxury Automotive Dealer, Luxury Automotive Dealership, luxury convertible, luxury coupe, Luxury dealer, luxury dealership, luxury driving, Luxury Family SUV, luxury leasing, Luxury meets performance, Luxury performance, Luxury racing, luxury sales, luxury sport, Luxury Sportscar, luxury sportscars, luxury suv, Luxury vehicle, McLaren, mclaren 600LT, McLaren Beverly Hills, o'gara coach beverly hills, Obica, OGara Coach, performance luxury, rolls-royce, sundat mornings in LA, sunset blvd, Sunset boulevard, sunset gran turismo, Sunset GT, Sunset GT cars and coffee, Sunset Plaza, supercar, svj, things to do, things to do in LA
Leave a Reply
You must be logged in to post a comment.